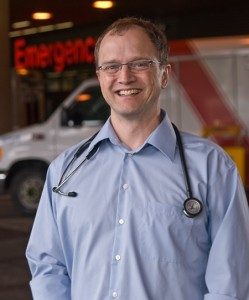 July 4, 2017
Jeff Brubacher, Associate Professor in the Department of Emergency Medicine received the 2017 Noni MacDonald Award from the Canadian Pediatric Society. Noni MacDonald Award recognizes an article in Paediatrics & Child Health journal that has positively affected paediatric medicine. This year's prize goes to the lead author, Dr. Jeff Brubacher of the article published in […]
Posted in Awards, News, Research, Research News | Tagged with
June 7, 2017
Big congratulations to Charles Stringer and Jen Chao for representing UBC and winning the inaugural CAEP SonoGames today! They were part of the "A Lines", representing Western Canada. Also, congrats to Dr. Justin Ahn, their inspirational coach who is an Emerg Physician at Royal Columbian Hospital!
May 31, 2017
Congratulations to Dr. Michael Ertel to the role of Vice President, Medicine & Quality effective immediately. Dr. Ertel (Mike) is a practicing emergency physician at Kelowna General Hospital (KGH) and has been a highly respected member of the Interior Health medical community for more than 20 years. As a highly regarded speaker in Emergency Medicine, Mike […]
May 30, 2017
They received the Award of Excellence from Vancouver Coastal health for Teamwork & Collaboration. This award is for a team that has come together to problem-solve, break down boundaries and/or create new relationships, finding sustainable solutions to health care challenges. Award of Excellence Mobile Medical Unit Deployment Team, Vancouver Acute & Vancouver Community: Lori Korchinski, Afshan […]
May 23, 2017
Congratulations to Dr. Kendall Ho for receiving the Award of Excellence in the People First Award category of Innovation. Over 80 nominations from across the organization this year were received. The selection committee—comprised of Senior Executive Team members, directors and frontline staff—had the difficult task of evaluating the impressive entries based on the award criteria. For […]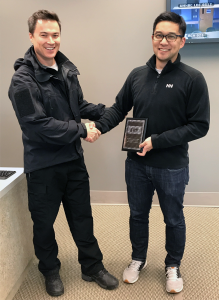 May 18, 2017
The UBC Royal College of Emergency Medicine Residency Program received an award from the Vancouver Police Emergency Response Team (ERT), in appreciation for allowing ERT members to participate in a recent procedural skills educational event. Pictured here is Dr. Eric Vu presenting a plaque to Senior Resident Dr. Jonathan Lee.
Posted in Awards, Education, Education News, News | Tagged with
May 18, 2017
Congratulations to DEM faculty members Dr. Jeff Brubacher and Dr. Kendall Ho for each being granted one of the 11 inaugural 2017 Health Professional-Investigator Awards from the Michael Smith Foundation for Health Research (MSFHR). This success is a major achievement, both for Drs. Brubacher and Ho, and for the DEM as a whole. The MSFHR […]
Posted in Awards, News, Research, Research News | Tagged with
May 15, 2017
Congratulations to Dr. Sam Stewart on receiving the 2017 Certificate of Merit from the Canadian Association of medical Education. this award recognizes his valuable contribution to medical education in our Faculty.
February 5, 2017
The Honourary Life Membership Award recognizes a CAEP member who has made outstanding contributions and dedicated service to emergency medicine in Canada. Dr. Vertesi's continued contributions, including his work developing, championing and promoting the creation of the Advanced Life Support Paramedic training in British Columbia, have had a substantial impact in emergency medicine at the […]
October 24, 2016
DEM would like to congratulate Dr. Quynh Doan in winning the 2015-2016 for the Academic Teacher of the Year award from UBC Pediatric Emergency Medicine. This well-deserved recognition reflects Quynh's commitment and excellence in her education of Pediatrics emergency medicine. Well done, Quynh!
Posted in Awards, Education News, News | Tagged with