April 21, 2020
Department of Emergency Medicine faculty member Kendall Ho and Lori Brotto and Peter Leung, professors in the UBC department of obstetrics and gynaecology, have been awarded the 2019 Faculty of Medicine Distinguished Researcher Awards. The annual awards recognize faculty who have made significant contributions in basic science research in the areas of health and life […]
March 27, 2020
Congratulations to Jeff Brubacher and his team for receiving 3-year funding from CIHR for a "Partnerships for cannabis policy evaluation" grant that they submitted last fall. The grant is just under $510,000 total.
March 27, 2020
Big congratulations to Shahin for receiving two Strategic Investment Fund awards from UBC. The first entitled: "Indigenous MD Applicant Structured Multiple Mini Interview (MMI) Preparatory Workshop." is valued at $50,490. This project will deliver MMI prep workshops for indigenous MD applicants with the goal of eventually increasing the number of indigenous physicians in BC and […]
January 22, 2020
Dr. Jessica Moe was awarded a Blue Sky Grant from the BCCDC Foundation for Population and Public Health for her feasibility study examining standard dosing and microdosing take-home Suboxone regimens from the emergency department. The Blue Sky Program provides seed funding for new and imaginative ideas that demonstrate scientific merit and the potential to make […]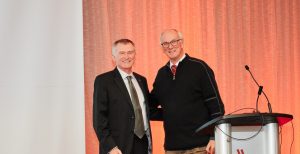 December 11, 2019
Congratulations to Jim Christenson who received the Distinguished Volunteer Award for the Heart and Stroke Foundation of Canada. Here being honoured by the Dr. Andrew Piper, the Chairman of the H&S Board at the annual board and leadership meeting in Toronto, November 30, 2019.
September 12, 2019
Congratulations to Dr. Josh Williams, RCPS-EM Associate Program Director, for receiving a 2019 UBC Clinical Faculty Award for Excellence in Clinical Teaching! The award recognizes excellence in teaching by clinical faculty members. More award recipients
Posted in Awards, News | Tagged with Clinical, Faculty, teaching, Williams
September 12, 2019
Congratulations to Clinical Assistant Professor Dr. Sam Stewart for receiving a 2019 UBC Clinical Faculty Award for Career Excellence in Clinical Teaching! The award recognizes senior clinical faculty members who have demonstrated sustained excellence in teaching over the course of their careers. More award recipients
Posted in Awards, News | Tagged with Clinical, Faculty, stewart, teaching
September 12, 2019
Congratulations to Dr. Corinne Hohl for receiving the 2019 UBC Faculty of Medicine Award for Excellence in Mentoring Early Career Faculty​. The award recognizes faculty members who have formally been identified as mentors and who exemplify a deep commitment to fostering the professional and personal development of faculty members in the early stages of their […]
Posted in Awards, News | Tagged with Faculty, hohl, mentoring, mentorship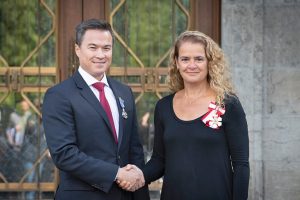 September 12, 2019
Congratulations to Clinical Assistant Professor Dr. Erik Vu for recently receiving commendation from the Governor General of Canada for outstanding public service. Erik was awarded the Meritorious Service Medal, which celebrates Canadians who have performed an exceptional deed or activity that brings honour to Canada. Full story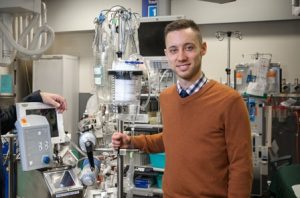 August 22, 2019
Congratulations to Brian Grunau for receiving funding from the MSFHR's 2019 Health Professional-Investigator (HP-I) competition. His research studies are on 'How can we Improve Survival from Opioid-Related Cardiac Arrest?'. The MSFHR Health Professional-Investigator (HP-I) Program is designed to develop BC's research talent and help decrease the gap between health research and its implementation. The awards support […]