May 16, 2019
We are pleased to announce and to congratulate Dr. Kevin Clark as the new RCPS Emergency Medicine Residency Program Director effective June 1, 2019. This is a new position only in that it is now separate from the distributed Associate Director positions in Vancouver, Fraser, the Interior and Vancouver Island. We are grateful to Brian […]
Posted in Education News, News | Tagged with
May 8, 2019
The Herb Parkin Award is a yearly award given to a UBC Emergency Medicine Resident who has completed or at least made significant progress in a project that furthers an area of Emergency Medicine and also benefits the public. This year's prize was awarded to Dr. Kevin O'Riordan, for his work with Hospital Preparedness for […]
Posted in Awards, Education, Education News, News | Tagged with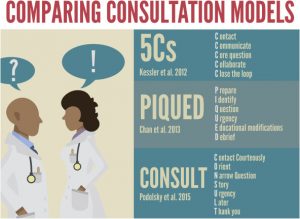 January 24, 2019
RCPS-EM resident Dr. Jared Baylis is the lead author of a recent publication, Conquering Consultations: A Guide to Advances in the Science of Referral-Consultation Interactions for Residency Education. His article is available online ahead of the upcoming print issue of the Annals of Emergency Medicine. The article explores the referral-consultation process for resident doctors. […]
Posted in Education, Education News, News, Publications, Research, Research News | Tagged with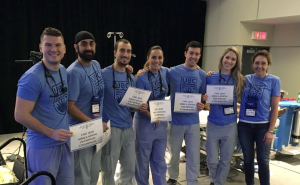 November 19, 2018
CONGRATULATIONS to the Family Practice Simulation Team The resident team and coaches put on a great show and won top prize in the CFPC 2018 Family Medicine Forum held in Toronto Simulation (SIM) Olympiad. They were the best of the best!!! The CCFP residents were the stars of the show. It takes a lot […]
Posted in Education, Education News, Featured | Tagged with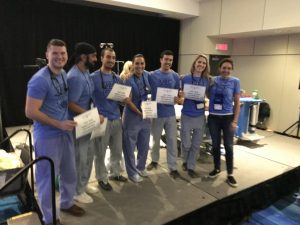 November 19, 2018
The resident team and coaches put on a great show and won top prize in the CFPC 2018 Family Medicine Forum held in Toronto Simulation (SIM) Olympiad. They were the best of the best!!! Of course, the CCFP residents were the stars of the show. It takes a lot of courage to stand on a […]
Posted in Education, Education News, News | Tagged with
May 1, 2018
We are pleased to announce Dr. Daniel Ting, a 4th year resident in the Emergency Medicine Program based in Kelowna, has been awarded the first annual Herb Parkin Leadership Award. The Herb Parkin Leadership Award is given to a UBC EM resident who has made an outstanding contribution to the field of Emergency Medicine. This […]
Posted in Awards, Education, Education News, News, Uncategorized | Tagged with
April 27, 2018
We are pleased to announce Dr. Jared Baylis, a 4th year resident in the Emergency Medicine Program based in Kelowna, has received the 2017 Resident Doctors of BC Award of Merit. This annual award recognizes members of the healthcare community for their contributions to creating an optimal training environment for residents in BC. As one […]
Posted in Awards, Education, Education News, News | Tagged with
September 11, 2017
Please join me in congratulating Chad Kim Sing on being selected as the inaugural UBC-BH Emergency Medicine Leadership Fellow! The UBC Department of Emergency Medicine and Brigham and Women's Hospital at Harvard recently collaborated on the development of a 2 year program to build leadership skills in promising future EM leaders. Chad is presently the […]
Posted in Education News, News | Tagged with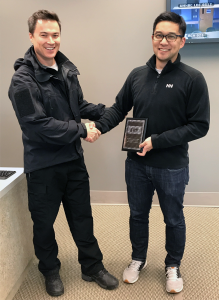 May 18, 2017
The UBC Royal College of Emergency Medicine Residency Program received an award from the Vancouver Police Emergency Response Team (ERT), in appreciation for allowing ERT members to participate in a recent procedural skills educational event. Pictured here is Dr. Eric Vu presenting a plaque to Senior Resident Dr. Jonathan Lee.
Posted in Awards, Education, Education News, News | Tagged with
October 24, 2016
DEM would like to congratulate Dr. Quynh Doan in winning the 2015-2016 for the Academic Teacher of the Year award from UBC Pediatric Emergency Medicine. This well-deserved recognition reflects Quynh's commitment and excellence in her education of Pediatrics emergency medicine. Well done, Quynh!
Posted in Awards, Education News, News | Tagged with