April 21, 2020
Department of Emergency Medicine faculty member Kendall Ho and Lori Brotto and Peter Leung, professors in the UBC department of obstetrics and gynaecology, have been awarded the 2019 Faculty of Medicine Distinguished Researcher Awards. The annual awards recognize faculty who have made significant contributions in basic science research in the areas of health and life […]
March 27, 2020
Congratulations to Jeff Brubacher and his team for receiving 3-year funding from CIHR for a "Partnerships for cannabis policy evaluation" grant that they submitted last fall. The grant is just under $510,000 total.
March 27, 2020
Big congratulations to Shahin for receiving two Strategic Investment Fund awards from UBC. The first entitled: "Indigenous MD Applicant Structured Multiple Mini Interview (MMI) Preparatory Workshop." is valued at $50,490. This project will deliver MMI prep workshops for indigenous MD applicants with the goal of eventually increasing the number of indigenous physicians in BC and […]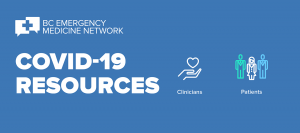 March 18, 2020
You can now find up-to-date, COVID-19 resources on the EM Network website for: Clinicians, Patients, & Epidemiology These BC-specific resources are reviewed and updated daily. If you have a COVID-19 resource or tip to share Please email connect@bcemergencynetwork.ca. You can also create a private, member's only discussion, or public blog post at www.bcemn.ca/lounge.
Posted in Emergency Medicine Network, Featured, News | Tagged with coronavirus, CoV, Covid, COVID-19
March 16, 2020
As a result of the rapidly-evolving COVID situation, we have made the decision to cancel UBC EM Research Day on April 8th. Our Visiting Professor, Dr. Jeff Perry, has been informed. Our thanks and apologies to those of you whose submissions were accepted for presentation. We are hopeful that we may be able to reschedule […]
Posted in News | Tagged with
March 10, 2020
Dr. Jessica Moe and her team were awarded $1.3 million in funding over five years from the Health Canada Substance Use and Addictions Program. This grant will support their study that aims to optimize emergency department screening for opioid use disorder, and evaluate standard dosing and microdosing approaches to buprenorphine/naloxone inductions initiated in the ED […]
Posted in News | Tagged with
February 7, 2020
Congratulations to Jessica Moe for winning a 2019/20 CAEP-SREMI Grants! This $5,000 Junior Investigator award will further her work on Buprenorphine/naloxone standard dosing and microdosing feasibility in the ED. More 2-19/20 CAEP Grant winners.
Posted in News, Research, Research News | Tagged with CAEP, CAEP-SREMI, Investigator, Jr., moe, SREMI
January 30, 2020
The Canadian Institutes for Health Research (CIHR), through the Institute for Indigenous People's Health (IIPH), announced funding to design an evaluation of emergency care solutions for four Nuu-chah-nulth Indigenous communities in BC. Emergency care is not adequate for many Indigenous communities in Canada. Many communities are far from hospital care. Many have only spotty nurse […]
Posted in Emergency Medicine Network, News, Research, Research News | Tagged with Ahousaht, CIHR, Hesquiaht, Kwiis hen niip, Kyuquot., Nuu-chah-nulth, remote, rural, Tla-o-qui-aht
January 30, 2020
Congratulations to Dr. Jim Christenson, who recently received funding through the 2019 UBC Grants for Catalyzing Research Clusters (GCRC) competition. Dr. Christenson leads the Resuscitating More Patients from Sudden Unexpected Death: Transformative Research cluster. The cluster will receive $197,000 in GCRC funds and $30,000 in Trainee Stipend funds for two years. Grants for Catalyzing Research Clusters […]
Posted in News, Research, Research News | Tagged with
January 27, 2020
Congratulations to Drs. John Tallon, Rob Stenstrom, and David Sweet, part of a team receiving $1,140,000 in CIHR funding for the Canadian Sepsis Research Network project "Improving Care Before, During and After Sepsis". The project is led by PI Dr. Dr Alison Fox-Robichaud of McMaster University. The overall goal is to reduce sepsis-associated illness and […]
Posted in News, Research, Research News | Tagged with