Archives by date
You are browsing the site archives by date.
May 19, 2017
Congratulations to the CanROC Research Team. Led by Principal Investigator Paul Dorian in Toronto they have been successful with a $2.5 Million Dollar Grant from CIHR to study Epinephrine Dosing in Cardiac Arrest The randomized controlled blinded trial will compare standard dosing vs low dose vs placebo. This current dosing of epinephrine in cardiac arrest […]
Posted in News | Tagged with
May 19, 2017
Congratulations to Dr. Quynh Doan and her team members, who include Dr. Robert Stenstrom, on their recent CIHR  grant award (approximately $600K) to validate MyHEARTSMAP, a psychosocial assessment tool for use in the emergency department (ED). Although up to 70% of youth seeking care in the ED have an underlying mental health condition, only 10% seek […]
Posted in News, Research, Research News | Tagged with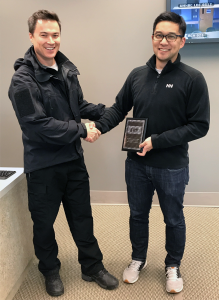 May 18, 2017
The UBC Royal College of Emergency Medicine Residency Program received an award from the Vancouver Police Emergency Response Team (ERT), in appreciation for allowing ERT members to participate in a recent procedural skills educational event. Pictured here is Dr. Eric Vu presenting a plaque to Senior Resident Dr. Jonathan Lee.
Posted in Awards, Education, Education News, News | Tagged with
May 18, 2017
Congratulations to DEM faculty members Dr. Jeff Brubacher and Dr. Kendall Ho for each being granted one of the 11 inaugural 2017 Health Professional-Investigator Awards from the Michael Smith Foundation for Health Research (MSFHR). This success is a major achievement, both for Drs. Brubacher and Ho, and for the DEM as a whole. The MSFHR […]
Posted in Awards, News, Research, Research News | Tagged with
May 15, 2017
Congratulations to Dr. Sam Stewart on receiving the 2017 Certificate of Merit from the Canadian Association of medical Education. this award recognizes his valuable contribution to medical education in our Faculty.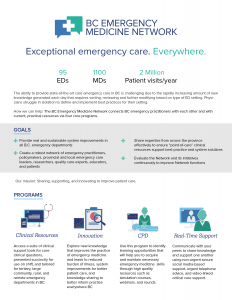 March 1, 2017
The BC Emergency Medicine Network connects BC physicians practicing emergency medicine and provides just-in-time resources. Visit BCEmergencyNetwork.ca to find out more.
Posted in Emergency Medicine Network, News | Tagged with
February 16, 2017
Professor Kendall Ho recently received a grant from the Lawson Foundation for his project "Mobile Digital-health for Activity and Wellness – mDAWN Kids: Using online comics, mHealth and wearables for type 2 diabetes prevention for middle years children through their Diabetes Funding Strategy". Funding from this grant will engage school age children from Grade 4 to […]
Posted in News, Research, Research News | Tagged with
February 5, 2017
The Honourary Life Membership Award recognizes a CAEP member who has made outstanding contributions and dedicated service to emergency medicine in Canada. Dr. Vertesi's continued contributions, including his work developing, championing and promoting the creation of the Advanced Life Support Paramedic training in British Columbia, have had a substantial impact in emergency medicine at the […]
January 9, 2017
Please join us in congratulating Dr. Trevor Skutezky, RCPS-EM Resident, and co-investigator Dr. Corinne Hohl, Associate Professor, as they recently received a $5,000 grant through the CAEP Research Committee to support their research project "Improving patient care by engaging Emergency Department staff in a participatory design of a Patient Safety Event reporting platform at an […]
Posted in News, Research, Research News | Tagged with
January 3, 2017
Dr. David Barbic is co-author of a new study finding Vancouver neighbourhoods with a higher proportion of Chinese residents, such as Richmond or Chinatown, tend to have higher rates of bystander CPR. Receiving immediate CPR increases survival rates from cardiac arrest by 2-3 times. Increased rates of survival were also noted in Kitsilano, Strathcona and […]
Posted in News, Publications, Research, Research News | Tagged with